---
When is the Revival Catalyst coming out in 10.1
---
The Revival Catalyst will be active on the
13th of June in US servers
14th of June in EU servers
---
How will the Revival Catalyst work
---
The week it becomes active, you talk to Therazal , in Valdrakken. Same NPC that gives you the weekly quest, "Aiding the Accord". 
The quest is called "The Catalyst Boon". 
This quest takes you to the catalyst area in Tyrhold. 
Once you turn in the quest and interact with the Revival Catalyst Console, you will see that you have a charge. 
The charge in 10.1 is called Renascent Shadowflame.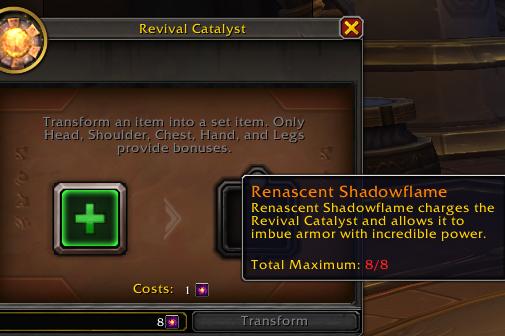 It does not say Account-Wide or anything like that compared to the old "Catalyst charge", but the Renascent Shadowflame charge will not influence the charges on your other characters when using it. All characters have their own charges and all of them gets a charge once a week. 
You can have a maximum of 8 stacks. 
---
Does the Renascent Shadowflame work on Season 1 gear
No. The Season 1 gear can be catalyzed for free instead, for transmog purposes. However, you cannot do this until the Revival Catalyst Console is active on Season 2. 
---
What about, ilvl, stats, types of gear etc. 
---
The Revival Catalyst will work in the same way as it did in Season 1. Check here for more info. 
https://www.worldofmoudi.com/full-guide-creation-catalyst-in-dragonflight-inspiration-catalyst 
---
---
Other posts