A new zone is added in 9.2 called Zereth Morthis.
This is an alien land with alien language that we players don't understand in the beginning. 
Zereth Morthis was created by the first ones and is the place that created all the lands of shadowlands. They are also the ones that have created everything in Azeroth and realms we haven't discovered. 
Our mission is to protect this place from the Jailer.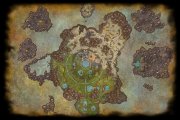 Zereth Morthis (click to enlarge)
---
Other posts