This homepage has been ongoing since 2014 and the guides have been growing and growing. The only problem I have with this homepage is funding it. At the beginning, I thought that I don't care about earning any money having this homepage but it turned out that I put a lot of time on it of my free time and close friends and family get shocked when I say that I don't earn any money on it. Plus my family is also growing, now when I have two wonderful kids.
So I started with ads. I have no idea how ppl make money from ads because I have tried so many companies and earn a couple of dollars as best. And now you wonder about viewers of course. Well, on a bad month when nothing happens in wow I have more than 100 000 unique viewers a month. The best month is over a million unique viewers.
The next step I did was putting a donate section on the sidebar. Not a single donation.
Friends told me about Patreon. So, some weeks ago, I made a Patreon page, however, only 1 person subscribed to support my work.
So now I made a change and maybe more changes will come.
I will continue with the Patreon.
People that like and enjoy my raid guides have to become Patreon members to have access to the raid guides. But once the last tier is out on lfr mode for a new raid, all raid boss guides will be available for everyone, not only patreon members.
Then there are some more benefits for Patreon members (check for more info here).
The changes are only to get viewers attention that it is a person on the other side of the screen, sitting and making these guides. Putting a lot of time and effort into doing so.  And if people like my guides, it would be very much appreciated to get some support so I can continue making them.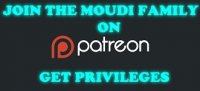 ---
Other posts