The first quest you get in the 3-part questline is called Crossing Fate. 
This quest requires you to defeat 30 different raid bosses. 
You can defeat these raid bosses in the 3 different raids (Nathria/Domination/Sepulcher).
You cannot defeat the same boss, no matter if you defeated them in different difficulties.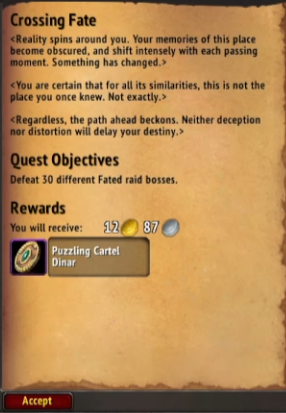 Once completed, you get a Puzzling Cartel Dinar which is the currency to buy trinkets and weapons from the new vendors in oribos. 
---
How to get the quest Crossing Fate
---
You get the quest automatically once you enter the raid. 
---
Other posts