A new Weekly quest is added in 10.1. It is similar to the weekly quest you get in Valdrakken, Aiding the Accord. 
This weekly is called A worthy Ally.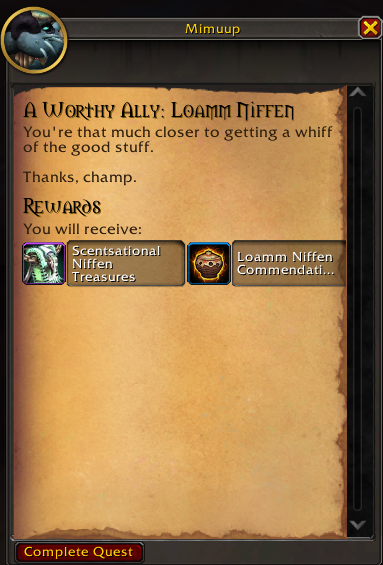 The first quest that I got was to gain 1500 reputation with the Loamm Niffen. 
The quest reward is 
Scentsational Niffen Treasure which contains:
Lost Dig Map (Myrrit will go on a dig with you)
Veteran Gear 411 ilvl,  4/8 which can be upgraded to 424 ilvl. 
Chance on Dragon Shard of Knowledge
100 Flightstones
Loamm Niffen Commendation which awards:
 500 reputation with Loamm Niffen. 
You get this quest from the the main hub in Loamm, Zaralek Caverns. 
---
Other posts