Description
The Fury spec is ideal for players that wish to DPS with 2 2-handers in end-game situations (Dungoens, Heroics, Raids, Scenarios, and Dailies).
Talents
Talents are very much situational at the end game, depending on the encounter you´re doing. Be prepared to change these out for others when needed. That said, the ones chosen are thought mainly useful in AOE options.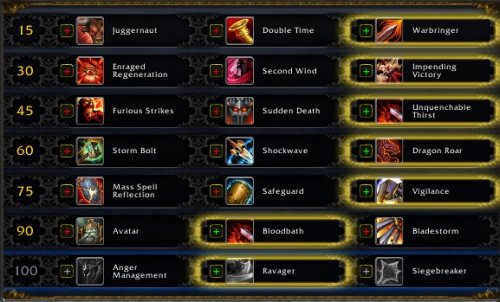 Glyphs
Unending Rage
Is practically mandatory increasing your rage pool by 20.
Enraged speed
will make you move faster when enraged which is likely all the times as fury warrior.
Bull rush
helps with rage generation at the time of the pull
Minor Glyphs are purely cosmetics so pick whatever you like.
Pros
2 2-handed weapons is fun
Nest DPS for warriors
Cons
Hard to mater
Melee Only
Can´t get away if things go wrong
Strategy
Stat Priority
Haste to 11% (with raid buffs)
Critical Strike to 50% (with raid buffs)
Strength
Mastery
Haste
Multistrike
Versatility
Critical Strike
Weapon-Dual Wield 1-Hand weapons. Dual wield 2-Hand weapons
Rotations
Rotations are not to be stuck to like glue. You can´t keep up the same rotation, because you must be able to react what´s going on. If you don´t know your abilities a rotation is a good start point to learning your class, but not something you must always stick to without deviation. It´s more of an outline or a priority list, or a general strategy.
Opening
Use any pots you may have
Charge
Bloodthirst
Recklessness
Continue to single target rotation
Single Target
If you are currently enraged, just wait until you can use Bloodthirst to re-activate enrage.
Berserker Rage (if enrage falls off)
Wild Strike to spend rage when you are near max
Raging Blow
Wild Strike
Dragon Roar
Bloodthirst if you have nothing else available
Single target – Below 20% HP rotation
Berserker Rage (to re-apply Enrage)
Execute
Bloodthirst when not enraged
Execute
Raging Blow
Wild Strike
Dragon Roar
Bloodthirst if you have nothing else available
Multiple Target (2-3 Enemies) Rotation:
Bloodthirst to maintain Enrage
Whirlwind
Raging Blow
Dragon Roar
Wild Strike when Bloodsurge procs
Bloodthirsht to generate Rage
If any target is below 20% hp replace whirlwind with Execute on that target
Multiple Target (4 or more Enemies) rotation:
Bloodthrist to maintain Enrage
Whirlwind when +80 rage
Raging Blow
Bloodthirst
Cooldowns:
Recklessness as many times as possible especially when during time of increased dps
Bloodbatch as often as possible and align it with Dragon Roar