These are extra races that you unlock and can play.
At the moment, there will be 6 allied races and even more will come.
Each allied race is being built from the ground up, having their own customization option.
All allied races will have their own
- Starting mounts
- Racial abilities
- Emotes
- Voices
- Special features, for example Lightforged Draenei will have their own lightforged tattoos. Dark Iron Dwarves will have their own beard and hair style that have flecks of embers flying off of them.
Horde
Nightborne
Highmountain Tauren
Zandalari Troll
Alliance
Lightforged Draenei
Void Elf
Dark Iron Dwarf
All except for Zandalari Troll and Dark Iron Dwarf will come out before the next expansion (Battle for Azeroth).
---
How to unlock Allied Races
Need to have purchased Battle for Azeroth
Have a level 110 already on that server
Highmountain Tauren
Exalted with Highmountain Tribe and completion of Ain't No Mountain High Enough. 

Nightborne
Exalted with the Nightfallen and completion of Insurrection.

Void Elf 
Exalted with Argussian Reach and completion of  You Are Now Prepared!

Lightforged Draenei
Exalted with Army of the Light and completion of  You Are Now Prepared!

Complete a special scenario to play the race
This is account wide (doesn't matter if you completed it as alliance or horde).
---
What classes can become an Allied Race
Not all classes can become a specific allied race. Here is a list of Allied races and what classes that are available for them.
HIGHMOUNTAIN TAUREN (HORDE)
Druid
Hunter
Monk
Shaman
Warrior
NIGHTBORNE (HORDE)
Hunter
Mage
Monk
Priest
Rogue
Warlock
Warrior
LIGHTFORGED DRAENEI (ALLIANCE)
Hunter
Mage
Paladin
Priest
Warrior
VOID ELF (ALLIANCE)
Hunter
Mage
Monk
Priest
Rogue
Warlock
Warrior
---
What mount do we get for Allied Races
Highmountain Tauren
Mount
Highmountain Thunderhoof
Achievement
Allied Races: Highmountain Tauren
Description
A gift from the tauren who trained this sure-footed highland moose to safely traverse the paths and peaks of Highmountain.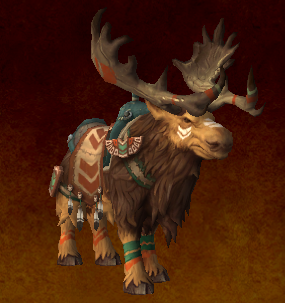 Nightborne
Mount
Nightborne Manasaber
Achievement
Allied Races: Nightborne
Description
Born capable of sniffing out concentrations of arcane energy, this noble cat was presented with thanks to a proven ally of the Nightborne.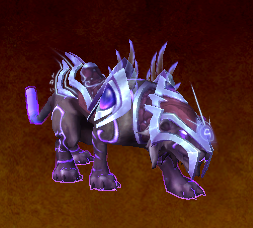 Lightforged Draenei
Mount
Lightforged Felcrusher
Achievement
Allied Races: Lightforged Draenei
Description
A long-time companion of the Draenei, the elekk are stalwart and sturdy steeds capable of standing up to the impending darkness without fear.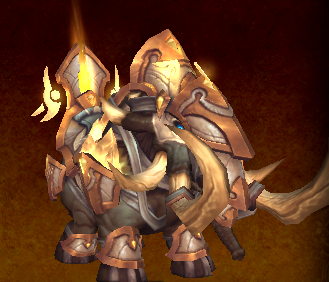 Void Elf
Mount
Starcursed Voidstrider
Achievement
Allied Races: Void Elf
Description
Those that follow the void tend to prefer the companionship of a steed without form or substance.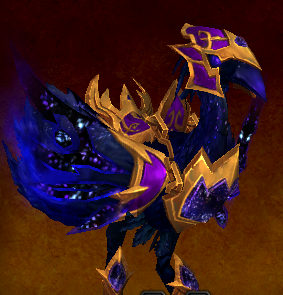 ---
What are the Racials we get for Allied Races
Nightborne
Cantrips
Conjure up an Eldritch Grimoire, allowing you mail access for 1.5 min.
Arcane Pulse
Deals 5000 Arcane damage to nearby enemies every 2 seconds and snares them by 50%. Lasts 20 sec.
Passives
Ancient History - Inscription skill increased by 15.
Arcane Affinity - Increases magical damage 1%.
Arcane Resistance - Reduces magical damage taken by 1%.
Highmountain Tauren
Bull Rush
Charges forward for 1 sec, knocking enemies down for 1.5 sec. 2 min CD.
Passives
Pride of Ironhorn -  Mining skill increased by 15 and allows you to mine faster.
Mountaineer - Increases Versatility by 1%.
Rugged Tenacity - Reduces damage taken by 330.
Waste Not, Want Not - You have a chance to loot additional meat and fish.
Void Elves
Spatial Rift
Rip a hole in space and time. Transporting you to the targeted location. 100 yd range. 1.5 min cooldown.
Passives
Chill of Night - Reduces Arcane and Shadow damage taken by 1%.
Entropic Embrace - Your abilities have a chance to empower you with the essence of the Void.
Ethereal Connection - Reduces the cost of Void Storage and Transmogrification by 50%
Preternatural Calm - Your spell casts are not delayed by taking damage.
Lightforged Draenei
Light's Judgment
Call down a strike of Holy energy, dealing Holy damage to enemies within 5 yards after 3 sec. 40 yd. 2.5 min CD. Instant.
Forge of Light
Summon a Forge of Light, enabling Blacksmithing. Blacksmithing skill increased by 10.
Passives
Demonbane - Experience gained from killing Beasts increased by 20%.
Light's Reckoning - When you die the Light avenges you, dealing Holy damage to enemies within 8 yards and healing allies.
Holy Resistance - Reduces Holy damage taken by 1%.
---
What is Heritage Armor
This is a transmog set for your allied race and no other race.
You must unlock this transmog by leveling your Allied Race character from 20 to 110 without any boosts.
This transmog set can be used on any Cloth, Leather, Mail, or Plate.
Nightborne: Shal'dorei set
Highmountain Tauren: Highmountain set
Void Elf: Ren'dorei set
Lightforged: Lightforged set
---
---
Other posts