Blizzcon will be on Friday 2nd of November and Saturday 3rd of November. A new tab has been added on the Battle.net app, Blizzcon!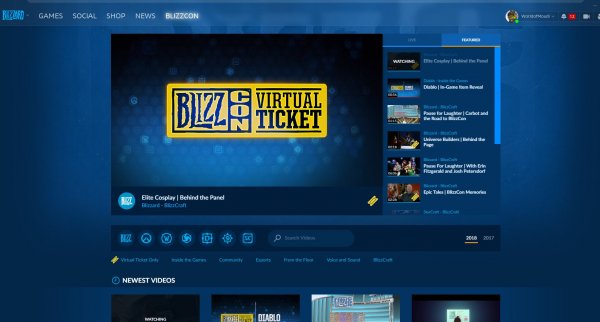 You can now watch everything there is about BlizzCon if you have the virtual ticket. You can most likely watch the opening ceremony without the virtual ticket.
There is a filter where you can check what is for everyone to watch and what's virtual ticket only.

My personal best thing is that you can watch last year BlizzCon as well!

What do miss though, is the schedule which is an important part for us viewers. We still have to visit https://blizzcon.com/en-us/ to check it. 
How to plan for Blizzcon at home
When I was in Blizzcon 2015, I checked everything I could regarding panels, what´s next, music art, Darkmoon area etc on the first day. The second day I spent most my time testing all the new stuff in each game and joined the community night etc after that. Maybe there was something special that day that I attended as well.
I will go with the same approach this year. The first day will be all about watching everything there is regarding what´s next etc and the day after will be all about testing Classic WoW. When I´m in que, I´ll go back and check what´s up on Blizzcon again.
In Europe, especially Sweden in my case, BlizzCon starts at 19:00 (07:00 PM, CET). I wonder if we will have access to wow classic earlier that day, which would be awesome, but I doubt it.
Different Halls and what to watch
In my case, I´m less interested in the ESPORT competitions, except for the finals just because of the hypes. But if you are interested in that, you should hang out in Hall A-C and the North Hall depending on what you want to watch.
HALL A
STARCRAFT II ESPORTS
HALL B
HEROES ESPORTS
HALL C
WORLD OF WARCRAFT ESPORTS
NORTH HALL
HEARTHSTONE ESPORTS
If you are more interested in all the new and cool stuff coming out in the games, then the D HALL (Mythic) is were to be.
Spotlight and Community stuff such as behind the music, inside blizzard etc are located in North Hall lvl 2 (EPIC)
Exhibition and Craft stuff such as voices, gear etc  are located in the North Hall lvl 2 (Legendary)


---
Other posts