You can use Primordial Stones that you have found in the vault and destroy so it becomes Primordial Fragments.

These fragments are used as a currency to buy Primordial Stones. 
For 10 Dormant Primordial Fragments, you can buy 1 Primordial Stone. 
You cannot buy a specific one, instead you will choose what type of Stone you want. 
The stones are color coded.
Orange - EARTH 
Gleaming Iron Stone
Standing still for 3 seconds in combat steels yourself, absorbing 25267 damage and increasing autoattack damage by 305 for 25 sec.
Indomitable Earth Stone
Taking damage has a chance to shield yourself, absorbing 50533 damage for 12 sec.
Shining Obsidian Stone
Gaining an absorb shield from a Primordial Stone erupts the ground, dealing 17188 Physical damage to enemies within 5 yd.
Red - FIRE
Flame Licked Stone
Dealing damage has a chance to set the enemy on fire, dealing 17332 Fire damage over 7 sec.
Raging Magma Stone
Absorbing damage has a chance to coat you in lava, causing melee attackers to take 2407 Fire damage for 6 sec.
Searing Smokey Stone
Successful interrupts exhale smoke, dealing 8022 Fire damage to enemies within a 8yd cone in front of you.
Green - NATURE
Echoing Thunder Stone
Moving builds an electrical charge, causing your next damaging ability to also deal 14438 Nature damage.
Pestilent Plague Stone
Dealing damage has a chance to infect the target with a spreading plague, dealing 9630 Nature damage over 9 sec.
Storm Infused Stone
Critically striking an enemy has a chance to shock them and 2 nearby enemies, dealing 9300 Nature damage.
Wild Spirit Stone
Nature and healing effects from Primordial Stones restore 10654 health of 5 nearby allies over 7 sec.
Wind Sculpted Stone
Moving rallies the wind to your side, granting 136 Speed stacking up to 5 times.
Blue - FROST


Cold Frost Stone
Gain a Frost shield every 20 sec that absorbs 33689 damage and slows melee attackers by 15% for 5 sec.
Deluging Water Stone
Abilities have a chance to drench a nearby ally, healing them for 26010 over 6 sec.
Exuding Steam Stone
Receiving heals has a chance to exude hot steam, restoring 12039 health to yourself and 2 nearby allies.
Freezing Ice Stone
Dealing damage has a chance to chill the enemy, dealing 16171 Frost damage and slowing them by 15% for 6 sec.
ARCANE
Harmonic Music Stone
Entering combat increases the tertiary stats of you and 4 nearby allies by 364 for 8 sec.

Humming Arcane Stone
Dealing Magic damage has a chance to fire Arcane missiles for each Primordial Stone family you have equipped, each dealing 8422 Arcane damage. 
Sparkling Mana Stone
Frost effects from Primordial Stones restore 996 mana over 3 sec.
NECROMANTIC
Desirous Blood Stone
Dealing damage has a chance to drain life, healing and dealing 12128 Shadow damage.
Entropic Fel Stone
Fire damage dealt by Primordial Stones is increased by 60%, and is now Chaos damage.
Necromantic Death Stone
Once every minute, moving near a corpse grants the Equip effects of the Desirous Blood, Cold Frost, and Pestilent Plague Stones for 25 sec.
SHADOW
Obscure Pastel Stone
Spells and abilities have a chance to cast a random Primordial Stone effect.
Prophetic Twilight Stone
Damaging effects from your Primordial Stones trigger one of your healing effects, and vice versa.
Swirling Mojo Stone
Being near a dying creature saps a portion of their mojo, and eventually crystallizes it.
---
Where to buy Primordial Stones (gems)
---
The vendor is called Researcher Imareth. 
She is located in Morqut Village in The Forbidden Reach.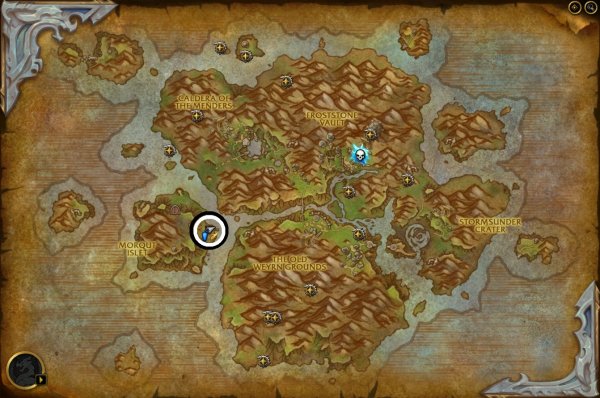 You have to complete a quest first before you have access to the vendor. This quest wants you to find two items inside the vault.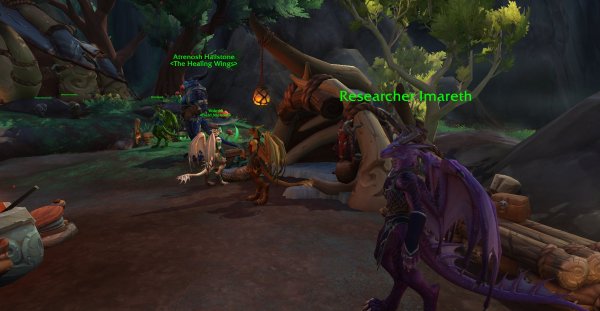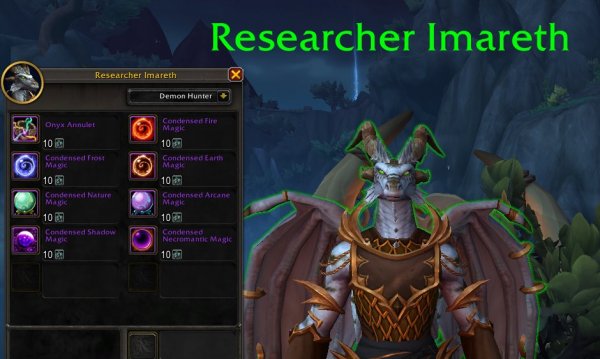 ---
Other posts