Temporal Acquisitions Specialist is an ahievement in patch 10.1.5 where you need to find a variety of items across the Timeways. Here is a video on how to complete it. 
There are 7 alternative worlds tied to the Rift event. 
Black Empire (Azq'roth)
Demon (Azewrath) 
Robot (A.Z.E.R.O.T.H.)
Scourge (Azmourne) 
Titan (Ulderoth) 
Murloc (Azmerloth)
Horde vs Alliance (The Warlands)
How to complete the Achievement "Temporal Acquisition Specialist

A new TOY has been added as a reward to the achievement "Temporal Acquisition Specialist" - Boffins
One item is obtained by entering their world, via the portal event. 
The other item is obtained by a quest. This quest is from an NPC during the 8 min Time Rift Event. It has to be an "invasion" from the world you need the item from. 
For example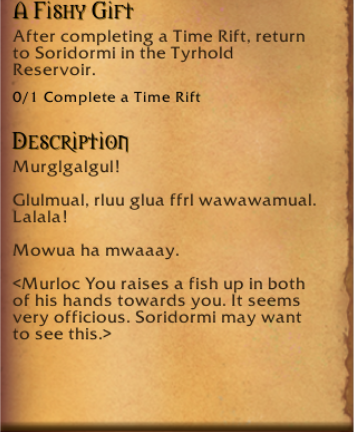 You get ths quest from a murloc NPC. 
ALL items
PHASE 1 → When completing 10 tasks 
PHASE 2 → When entering alternative world via portal and fight a boss
Ulderoth (Titan) Phase 1
Titan Disc
Ulderoth (Titan) Phase 2
Watchers Log
Azewrath (demon) Phase 1
Map to Suramar?
Azewrath (demon) Phase 2
Antlered Skull
Azq´roth (Old God) Phase 1
Amber Blade
Azq´roth (Old God) Phase 2
Chipped Stone Tablet
A.Z.E.R.O.T.H (Robot) Phase 1
Mechanized Cog
Boffin
A.Z.E.R.O.T.H (Robot) Phase 2
Azmerloth (Murloc)  Phase 1
A Fish
Azmerloth (Murloc) Phase 2
Azemerlothian Hourglass
Warlands (Alliance vs Horde)  Phase 1
Blood Soaked Book
Warlands (Alliance vs Horde)  Phase 2
Oil Soaked Log Book
Azmourne (Scourge) Phase1
Corrupted Ashbringer
Azmourne (Scourge) Phase 2
Glided Vase
---
Other posts