Feast of Winter Veil is during Dec 16 -January 2

This Guide covers all the new things that are available during the Feast of Winter Veil 2015. I have also pu some Guides on how I think you can get these awesome things, but remember it is not confirmed yet. Feel free to drop a comment below if you found the real way. For now, enjoy discovering the new things and lets go get them!
New pet: Grumpling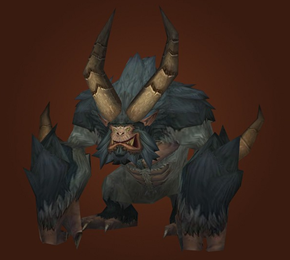 Guide: You get this mount by opening (looking inside) Snow Mounds in FrostFire Ridge- They are around the area were grumpus and his minions are. The same area in which all the dailies directs you.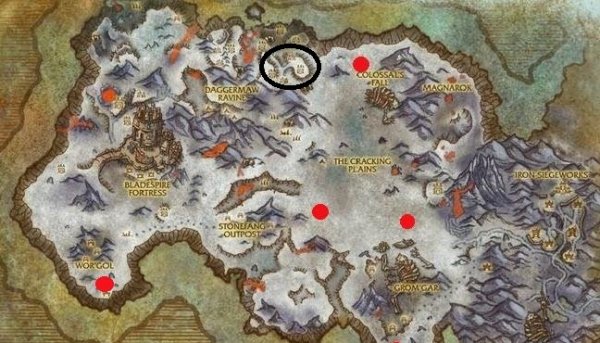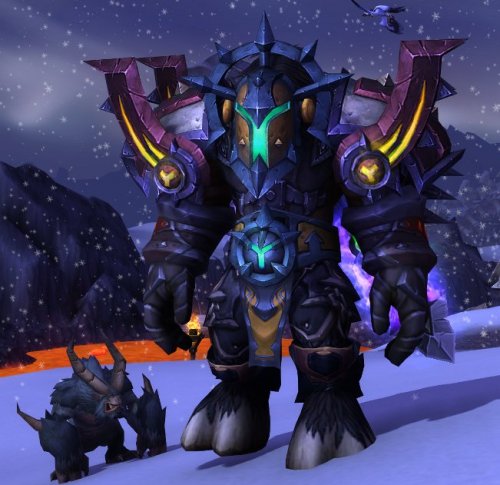 New Toy: Red Woolen Sled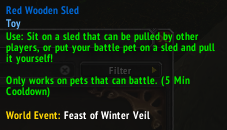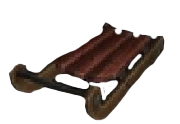 An AWESOME Sled that can be pulled by other players!
An AWESOME sled in which you can put your pet on and pull.
Guide: You will get this Sled by opening "A Gently Shakin gift" that is one of the gifts under the christmas tree, in which you can open at Christmas Eve.
New Mount: Minion of Grumpus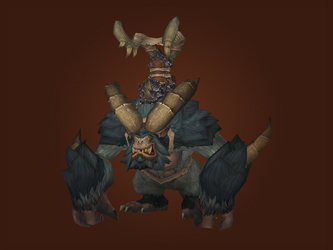 Requires lvl 40
Requires Journey man Riding skill
Looks like the pet… but bigger… and a seat on him :D
Guide: can be achieved by opening a Savage gift Box.
Savage Gift can be bought by your Event Coordinator in your garrison for 5 Merry Supples. 

Merry Supples: A currancy that you can get by doing dailies that your Event Coordinator gives (4 a day).
All 4 quest rewards you with total of 5 Merry Supplies. 
Savage gift boxes will contain ONE out of following items:
-

 Minion of Grumpus
-
 Frozen Arms of a Hero
-

 Elixir of the Rapid Mind
-

 Medallion of the Legion
- Oil x300
- Garison ressources x300
- Apexis crystals x1000
Battle.net account bound: SNOW BLOWER

With this badboy you can create snowstorms
This has item not been confirmed yet.
Weapon Illusion: Winter Grasp
"For those that don't have or cant get hold on someone that has an enchantment hut in their Garrison… The Winter Grasp Weapon Illusion!"
Really good for low lvl chars since you can use it when you are minimum lvl 40.
Guide: Stay tuned!
"Merry Munchkin" Costume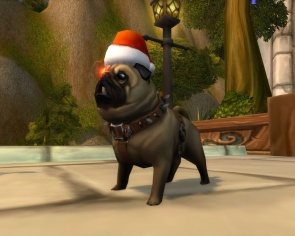 Dress up your Pug Pet with a Christmas hat.
Guide: You will get this Sled by opening "A Gently Shakin gift" that is one of the gifts under the christmas tree, in which you can open at Christmas Eve.
New ivl on "Miniature Winter Veil Tree" dagger – 670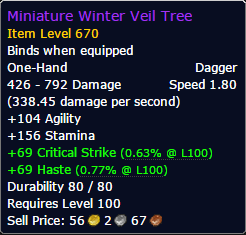 This dagger has been in the game before, but not with item lvl of course.
Guide
There is one daily quest called: You're a Mean One...
Take the quest at Hillsbrad Foot Hills
Join/make a team or go there and tag him while others attacking. He spawns outside the Growless Cave in Hillsbrad Foothills, east of Dalaran Crater.
In Warlords, this The Abominable Greench is an Elite lvl 103 with 4.3 million Hp.
You do not need to be in the same group as the one that tagged him
After he's dead, reindeer Metzen will appear nearby.
The gifts are near the cave where he spawns
Deliver the quest and you will be rewarded a "Stolen Present"
"Stolen Present" may contain Toys, pets or The Dagger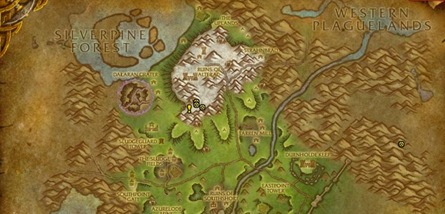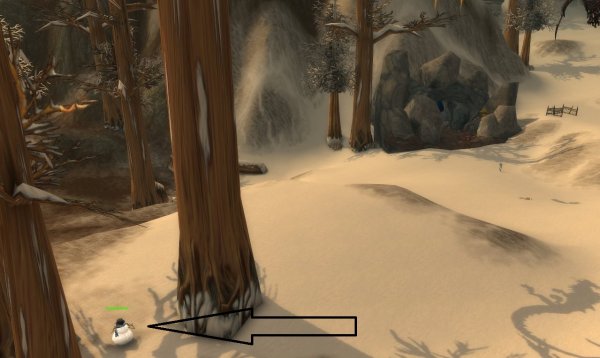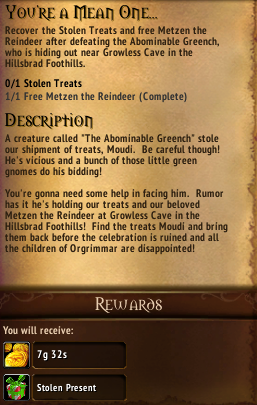 Garrison Decorations
Imported Trees: A festive collection of trees and presents.
Festive Outfits: Dress your garrison guards for the season.
Old Box of Decorations: A collection of candy canes, mistletoe and stockings.
Ball of Tangled Lights: A festive display of lights and wreaths.
Little Helpers: Winter Veil helpers and a Winter Wondervolt.
You can buy these decorations for Merry Supplies (currancy) from the event coordinator at your Garrison.
---
Comments powered by

Disqus
Other posts