By default settings in WoW there are spell alerts for various procs. But by using WeakAuras, you can choose what spells you want as alert, not only the procs. Such as buffs, debuffs and ability cool downs. WeakAuras can be configured to show you anything in any way you like. So instead of having the Blizzards ui in which are spells, buffs, debuffs are shown in the bottom or the corners, you can have them in the middle of the screen right next to your character, where all the action happens.   
 This Guide is for an important reason, WeakAuras is not the easiest addon to setup. Now, you can choose to configure your own spells or a faster way, which is importing setups. This guide will cover both parts. If you are already familiar with WeakAuras and want strings for your character, then just click on the class you are interested in.
Also, if you don't want to learn how to customize weakauras and just want to copy the strings and good to go, you find them here below.

How to use already optimized weakauras
If you don't have the WeakAuras addon you can down load it here
Choose a class above
Copy the URL you are interested in, a short description above it is written
Enter World of Warcraft and type /wa
A window will pop up looking like this.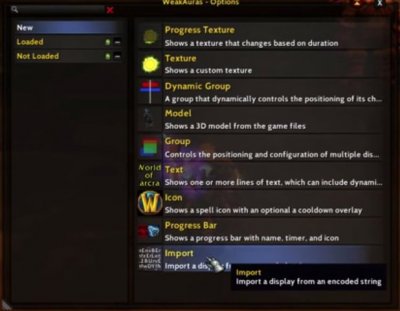 Furthest down you will find the Import button. Click on i
Now paste the URL that you copied from the class spell.
You now see that a small box popped up that shows what the URL does. Click on the small Import button for that spell.
Now you can see on the left side bar that it is added.
If you click on the spell you now have on the left side bar you can see that spell on the screen as well. Now you can hold left click on that spell and move it wherever you feel like having it.
Do the same thing on all the other spells you want.
Comments powered by

Disqus
<